SMI Physical Health Checks
What are SMI Health Checks
It is recommended that people with severe mental illness (SMI) receive a physical health check at least once a year. This is because life expectancy in this group is reduced by up to 25 years. The major cause of death is cardiovascular disease caused by a combination of smoking, unhealthy diets, lack of exercise and weight gain.  Some of the antipsychotic medications used to treat patients with SMI have been implicated in raising this risk. Many other physical conditions are also prevalent in this group. Additionally, people with SMI who are at high risk of self-neglect have the highest excess mortality. The free health check enables people to identify and address any issues; ensuring they have better health, wellbeing, and quality of life.
Requirements
Health services have a legal obligation to make reasonable adjustments to ensure that people with SMI are not disadvantaged compared with the general population in accessing healthcare. In an attempt to tackle this disparity. Targets were set in the Mental Health Five Year Forward View, and subsequent Long-Term Plan to ensure that at least 60% of people with SMI receive an annual physical health check. This annual standard will be raised to 80% by 2023-24.
The previous requirement for primary care staff to complete six elements of a health check has now increased to twelve: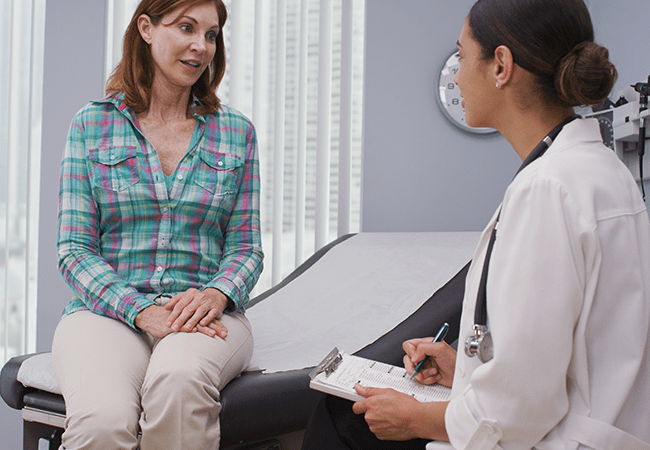 BMI/ Waist Circumference
Blood pressure & pulse check
Blood lipid including cholesterol
Blood glucose test
Assessment of alcohol use
Assessment of smoking status
Assessment of nutritional status, diet and level of physical activity
An assessment of use of illicit substance/non prescribed drugs
Access to relevant national screenings
Medicines reconciliation and review
General physical health enquiry into sexual health and oral health
Indicated follow-up interventions
Delivery of a Local Enhanced Service (LES)
NHS Northamptonshire Clinical Commissioning Group (CCG) intend to use the Long-Term Plan baseline funding allocated to them from NHS England to implement a Local Enhanced Service (LES). This will enable them to provide each primary care center with enhanced payments for patients who annually receive the required elements of the SMI physical health check. Their aim is to ensure a person-centered service that people with SMI feel comfortable, confident, and able to engage with.
The intervention we have developed will achieve the educational and support objectives set out by the CCG, who have commissioned WORTH Northampton to support them in the delivery of the LES.
Training
This Training program includes a three-hour module (face to face or via ZOOM or TEAMS). It is divided into bite size pieces so delivery can be split into separate sessions. It has been written by a nurse expert in the subject and focusses on preparing primary care practices to offer health checks for people with SMI. The need for follow up and support after the initial health check is emphasised. It is hoped that participants will feel inspired and encouraged to take on the responsibility, and that any negative attitudes are dispelled. The specific objectives are for the participant to:
Understand how a person is affected by severe mental illness
Know how to work with a person with severe mental illness
Recognize relapse in mental health
Be aware of the physical health issues in severe mental illness
Consider how to make appointments accessible
Be able to monitor physical health in severe mental illness
Appreciate the importance of supporting behavior change
The training will be provided as a train-the-trainer (TTT) program. TTT refers to a program of education where practitioners receive training on a defined subject and instruction on how to train, monitor, and supervise other professionals. A training toolkit will be supplied, including a power point presentation, participant handout, trainer handout, training schedule and evaluation forms, this will be delivered by Dr Sheila Hardy on behalf of Charlie Waller Trust. Charlie Waller Trust is a charity which provides free education to staff in schools, universities, and primary care.  It is anticipated that two nurses will be trained from each of the four primary care networks.
Training will be delivered to practice staff during PLT sessions or at other times if this is more convenient. There are several ways that the trainers will deliver the training:
Arrange classroom sessions. Large numbers can be trained at one time, training sessions are delivered quickly, and staff meet people from other areas. This can also be delivered via ZOOM or TEAMS.
Short sessions in practice (one practice or groups of practices). These can be fitted into lunch breaks and PLT sessions. Being in a small group enhances learning and team support and trainers are often more confident to deliver this way.
Trainers will be able to access the CWT trainer for individual advice as part of the TTT delivery. They will get support from the WORTH project team in the form of action learning sets bi-monthly for four sessions (face to face or via ZOOM or TEAMS). The purpose of the action learning sets is to enable the trainers to learn from each other's experience and find ways to deal with issues in training and health check delivery. They will also be able to contact the WORTH project team with individual queries.
To enhance their willingness to undertake the role and increase the likelihood of providing the same level of care from individual practices, the practitioners delivering the health checks will be visited by their trainer. The trainer will check they are able to put their training into practice and offer assistance as appropriate. The practitioners can also access advice and support from the trainers and members of the WORTH project at other times by contacting them by email.
Staff delivering health checks
To find out whether:
staff providing the health checks understand the needs of people with SMI and know how to deliver the best care for this group we will ask them to complete an evaluation form following their training, and a questionnaire six months later. The trainers will also keep a record of any issues brought up by the staff and how they were resolved.
the managers of staff carrying out the health checks enabled them to deliver the best care, we will ask practice managers to complete a questionnaire.
staff feel supported to provide the health checks and the appropriate follow up, we will ask them to complete a questionnaire.
Impact on numbers of people with SMI receiving health checks and follow up
To find out the percentage of people with SMI who have:
had each element of the health check completed, we will measure data captured on the Ardens template.
had all elements of the health check completed, we will measured data captured on the Ardens template.
attended a health check and been offered help to change any identified unhealthy behaviors, we will measure data captured on the Ardens template.